Somos muy testarudos, por eso nos hemos empeñado en actualizar el servidor a la nueva version de exile, que en principio presentaba muchos problemas. Con teson estamos consiguiendo solucionar los problemas mas grandes, y podemos anunciar que el servidor acabara actualizado a la version 1.0.4. Se perderan algunas cosas por el camino, pero sera a cambio de otras nuevas y aprovecharemos para hacer limpieza de scripts, bugs y funciones.
Cuando este todo ultimado procederamos a la actualizacion. Lento pero seguro

----------------------------------------------------------------------------------------------------------------------------------------
We are very stubborn, that is why we have endeavored to update the server to the new version of exile, which initially presented many problems. With hard work we are getting to solve the biggest problems, and we can announce that the server will finish updated to version 1.0.4. Some things will be lost along the way, but it will be in exchange for new ones and we will use it to clean scripts, bugs and functions.
When this all finalized we will proceed to the update. Slow but safe

I think it's very good that you give so much effort, keep it up!



Mensajes

: 6


Fecha de inscripción

: 2018-03-22


Edad

: 31


Localización

: Switzerlande



Added to new upgrade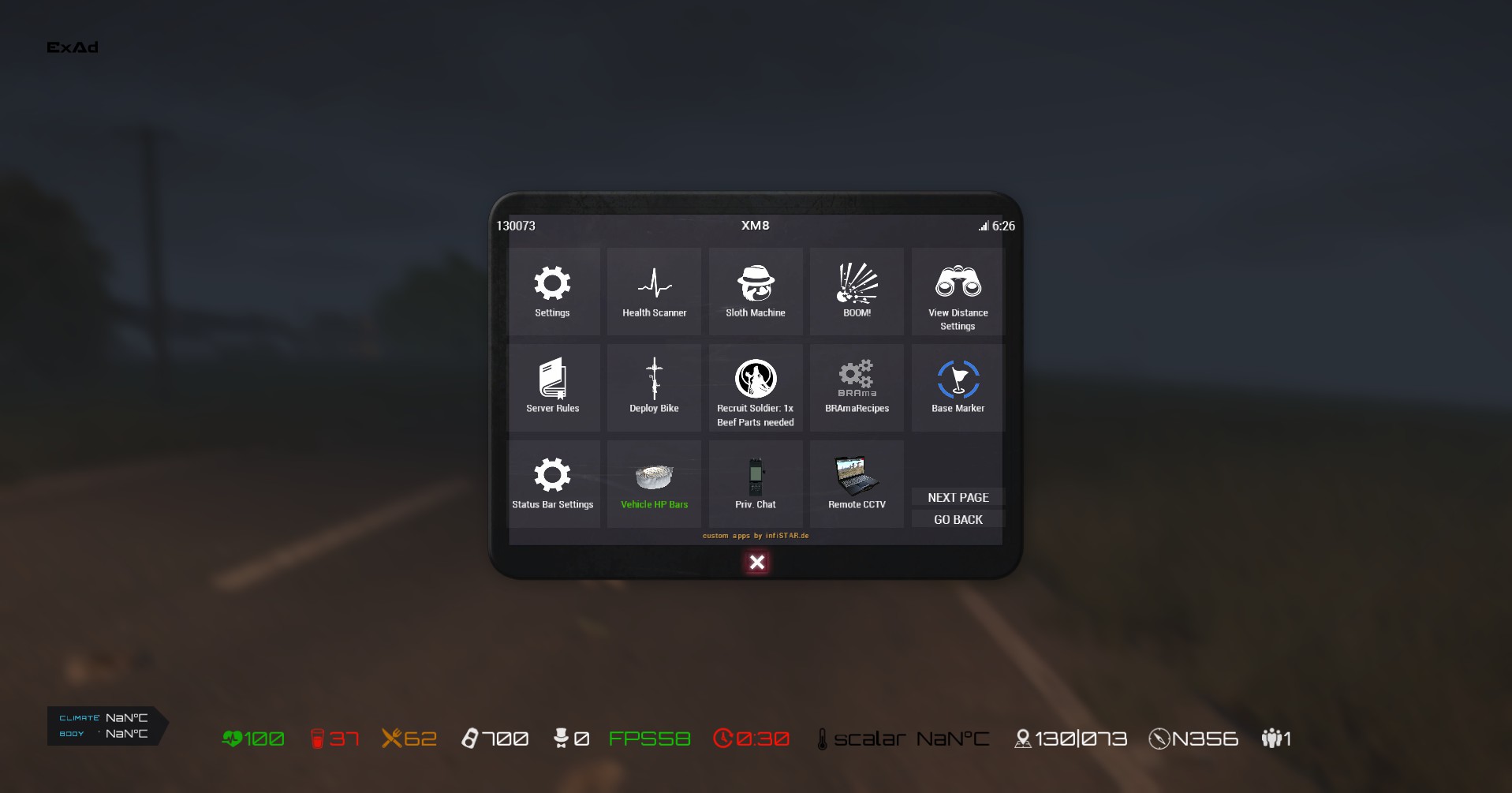 Nice work, excited to see what you and the guys come up with. Thanks for all the hard work and effort.



Mensajes

: 19


Fecha de inscripción

: 2018-03-15



Added new scavange system:

Information:
Basicly this system will allow players to interact with terrain/map objects.
If the object has a entry in a scavenge class within the configurations the player can loot this object
and has a chance to get a item from that depending on the class.

So far the players can:
- Search throu wrecks.
- Get water from different sources if he has a empty bottle/container to fill.
- Search throu trash-bins/piles.
- Get cinderblogs from different sources if he has a sledge hammer on his body.
- Pickup fruits and apples from trees
- Search throu fornitures.
etc


Looks fantastic, cant wait to see it on the server.



Mensajes

: 19


Fecha de inscripción

: 2018-03-15



Added for new updated:
it was time



Similar topics
---
Permissions in this forum:
You
cannot
reply to topics in this forum